Swing your way to betting success with our exclusive new service: Pinpoint Golf Tips.

After a very successful 4 month free proofing period on the Secret Betting Club Forum, you can now secure your membership to this golf tipster service.
7 Reasons Why Pinpoint Golf Tips Can Help You!

First of all, here are 7 reasons on just why Pinpoint Golf Tips can add a profitable new dimension to your betting:
Long-term record of 208.6 points profit from 1099 bets since August 2015;

Fantastic ROI of 18.5% obtained during this period;

Exceptional betting bank growth with 83.4% ROC in first 7 months

115 points profit at 24% ROI from 470 bets during 'Free Proofing' period available to all SBC members;

All bets settled to generous fair price odds settling policy – ensuring you can achieve advised prices;

Easy to get your bets accepted and matched by both bookmakers and exchanges;

75 and 200 points profit guarantee for those subscribing for 6 or 12 months.
Poacher Turned Gamekeeper –  The Bookies Loss Is Our Gain

Liam Jones is the brains behind the Pinpoint Golf Tips service and he has showcased a tremendous edge over the bookmaker during his proofing period.
In total, his outright golf tips have made a 208.6 point profit at a ROI of 18.5% over 1099 bets since August 2015.
This outstanding record is perhaps no surprise considering that he is a former odds compiler himself, having worked for many of the biggest names of the industry over the past decade.
Now a full-time gambler, the bookmakers loss is very much our gain as Liam has agreed to share all of his personal outright golf betting tips with members of this exclusive SBC-run service via Pinpoint Golf Tips
His tips are easy to follow, with fairly achievable odds quoted at all times and a sensible, well thought-out staking plan to maximise your profits.
 


The Fantastic Pinpoint Golf Betting Record

Any tipster is only as good as the results they make for followers and it is here that the Pinpoint Golf Tips service excels.
Since August 2015 it has made a 208 point profit from 1099 bets at a Return on Investment of 18.5%. This equates to a ROC or Betting Bank Growth of 83.4%. A full rundown of performance can be seen in the table below: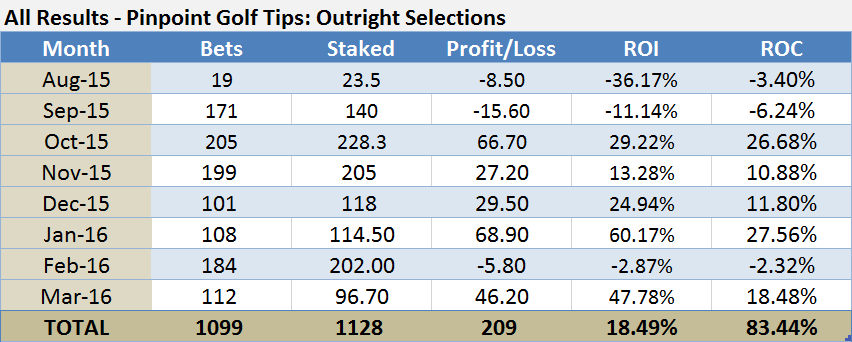 In the interests of full transparency – you can also download a full results spreadsheet here:  Proofing_Pinpoint_Golf_Outright
114 Points Profit From 470 Bets In Public SBC Proofing Period!

To showcase his ability, Liam has also posted every single tip from December 8th 2015 on the Secret Betting Club members only forum. This has enabled all SBC members the ability to follow him in each week and see exactly what all of the fuss is about. You can view the forum thread via this link.
During this free proofing period, Liam achieved some sensational results from the 470 bets outright winner tips advised.
In total he made SBC members an 114.6 pt profit at a Return on Investment of 24.2% and a Return on Capital (ROC) or Betting Bank Growth of 45.8%.
Below you can see the breakdown of performance during this free proofing period.

Read An Interview With The Man Himself…

To gain a greater insight into Liam's background, his golf tipping expertise and exactly why you should join his Pinpoint Golf Tips service, we recently interviewed him to find out more.

In this interview, Liam details his unique method of golf tips selection and exactly why he is now offering private access to his tips for the first time ever!
Read Our_Interview With Liam of Pinpoint Golf Tips (opens up a PDF download file)

Great Turnover, Betting Bank Growth & Sensible Profits

As a subscriber to the Pinpoint Golf Tips service, you will receive all of Liam's outright winner tips for each golf tournament every week.
With 5 to 6 tournaments taking place every week, this equates to an average of around 40 tips for you to back on a weekly basis. All tips are advised to be backed either to win or each way with a clear and sensible staking plan for you to follow.
It is this 'high-volume' approach to tipping which is one of the most alluring aspects of the Pinpoint Golf Tips service as it helps on a number of fronts.
Firstly it allows you to turn over your betting bank very quickly indeed – ensuring you can make the most return for your money possible.
Secondly and very importantly for Golf, it minimises the drawdowns, which is often essential given the low strike-rate and high average odds of the tips put forward.
Struggling To Get Your Bets On? If So, Try Golf Betting!

In today's modern betting landscape, golf betting is also becoming more and more popular because it is much easier to get your bets on, especially when compared to other sports such as horse racing.
Most bookmakers are much more willing to lay a bet on golf than on other sports – even those such as Skybet who have a very poor reputation at taking horse racing & football bets, yet who are very open to accommodating good stakes on golf bets.
So if you are frustrated by bookmakers slashing odds or restricting your stakes on the bets you want – than you really want to consider following Pinpoint Golf Tips.
Pinpoint Golf Tips also has a fair odds availability policy to ensure that you can at all times achieve the results we quote.
We settle at odds available with at least 2 of the following bookmakers at time of release: Bet365, Paddy Power, Ladbrokes, Skybet, Coral, 10bet, Bet Victor & William Hill.
You can also find excellent value on many of the tips supplied on betting exchanges such as Betfair where you can often beat the advised odds quoted on many occasions.
The Service In Operation – Easy To Follow Emails

Liam has made the Pinpoint Golf Tips service as easy to follow as possible. Here is how it all works:
Every Monday Morning, he will update you on the past week's performance and also outline a time/date schedule for when you can expect to receive tips for the forthcoming week's golf action.
Tips will then be supplied via email between Monday Evening and Thursday Morning at clear and set times. Thus ensuring you can be fully prepared as to when you will expect to receive the advice.
These are a mixture of bets to be backed both win only and each way with a clear staking plan and a 250 point betting bank advocated for optimal returns.
6 and 12 Months Minimum Points Profit Guarantee

To provide further reassurance (should any be needed) that the Pinpoint Golf Tips service will bring you success, all 6 and 12 month membership subscriptions also come with a unique points profit guarantee as follows:

6 Months Guarantee: 75 points profit
12 Months Guarantee: 200 points profit
These guarantees states that you will receive selections from the service until you make at least 75 or 200 points profit, depending on whether you sign-up for 6 or 12 months.

So, if for any reason over your 6 or 12 month period we fall short of these standards, we will keep sending you tips until this minimum points profit barrier is breached.

As an example, if you joined on the 1st January for 6 months and by the end of your subscription term on the 30th June, we had only made 70 points profit, then you would continue to receive tips free of charge until we breach the 75 point profit barrier.
We don't expect to have to utilise these offers very often given the overall success of the service, but it is there to give you full peace of mind that you can join in confidence.
Secure Your Membership Space Now
You can now subscribe to the Pinpoint Golf Tips service and receive all bets exclusively via email.

So don't delay, secure your subscription now using the following links:
3 Months Membership
Current Price: £175
Click here to subscribe
6 Months Membership
Comes With 75 Point Profit Guarantee
Current Price: £265
Click here to subscribe

12 Months Membership (BEST VALUE)
Comes With 200 Point Profit Guarantee
Current Price: £390
Click here to subscribe