Latest Premium Tipster News

16th November 2017
Why The Football Messiah's Odds Hold Up So Well

One of the most important considerations before joining any tipster service these days is just how available the odds quoted actually are.
Which is why I wanted to share with you my research into the profits made by the Football Messiah so far this season and just how well the odds quoted are holding up (and of course how easy it is to replicate, if not beat this performance level).
It is this diligent research into the odds quoted, which has now allowed us to accept new subscribers into the Football Messiah service as we know the odds stack up really well. If interested in signing-up to the Football Messiah you can find out more via this link.
The Football Messiah's Profits During The Last 2 Seasons
The Football Messiah has been making profits for years for his followers, including last season whereby over 625 tips he made a 661.23 point profit at 10.25% ROI.
Note – all bets are for 10 points staked each time, which is his historical staking plan, so logically simply placing £10 on each bet will have made you £661.23 last year. £25 per bet would have returned £1653.07 and so on up the staking scale…
This season the Football Messiah has made his odds even more achievable (and beatable) as he is now only quoting odds from 3 bookmakers: Bet365, William Hill & Pinnacle Sports.
Best of all, he is on track to repeat his 2016/17 season form with his first 142 bets of this season making a 159 point profit at 11.19% ROI.
The average odds for all 142 bets comes to 2.71 (a tick over 13/8) and a 44% strike-rate.
Comparing This Performance To Kick-Off Odds
To help compare how achievable and realistic these odds actually are, I have been tracking the odds for each of the Football Messiah's tips as they stand at kick-off for each game.
This is the last price each tip is available for across these 3 same bookmakers only (Bet365, William Hill & Pinnacle Sports).
If you had backed each tip at kick-off odds at the best odds, over the same 142 bets, you would have made a 145.9 point profit at 10.27% ROI.
Only a marginal difference to those we have quoted above (11.19% ROI vs 10.27% ROI), although perhaps the most telling stat is the average odds of all these tips combined, which also work out at 2.71.
Exactly the same as those we have quoted in our results. A major tick in the box when it comes to odds availability.
Comparing This Performance To Kick-Off Odds
Another fascinating way to judge a tipster is how well they do set against the kick-off odds from the leading football bookmaker, Pinnacle Sports.
Millions of pounds is traded on each and every football game through Pinnacle and their final kick-off odds are accepted as one of the most, if not the most accurate barometer.
The logic therefore stating that if a tipster can make a profit betting at Pinnacle's kick-off odds, they are worth following in.
To gauge this for the Football Messiah, I crunched the numbers and found that if you had backed every tip from him this season with Pinnacle, you would have made a profit of 125.5 points at 8.83% ROI.
A small difference between those quoted, but an acceptable one given that realistically you would not just bet with just the one bookmaker like this. The ability to make a 8.83% ROI betting solely with Pinnacle is quite the achievement.
Analysis we ran for the Football Messiah's tips last season revealed a similar drop from his official stats if betting only with Pinnacle. Again he made a clear profit at their kick-off odds.
Grab Your Space Now – Get This Weekend's Tips
Hopefully the above stats and research will help prove to you just how obtainable and sustainable the Football Messiah's odds actually remain.
Here at SBC, I pride myself on monitoring the odds quoted on the tips supplied and ensuring all of those who join the Football Messiah can match, if not beat those put forward.
Whilst I can't do anything about what happens out on the pitch when it comes to the Football Messiah's tips (I am looking at you Doncaster for conceding a 97th minute equaliser last week!), I can make sure the odds quoted are fair.
Remember the results quoted by the Football Messiah are the best prices available with just 3 bookmakers, so if you have access to more accounts, you can easily beat the odds we advise.
For those of you keen to follow the Football Messiah's advice this weekend, he has 10 tips, which if you sign-up before 9pm this Friday, I will ensure you get on and can get started right away.
You can grab your space by following the links at 
https://secretbettingclub.com/football-messiah/
20th September 2017
25 New Scottish Football Spaces Now Available (Limited Offer)

Back in July, I highlighted the special membership offer available with the Scottish Football Income Booster service and its fair to say so far this season its been a roaring success.
Those of you that grabbed a space initially will have benefited to the tune of 24.14 points at 52.49% ROI from the first 36 bets of the season (which continues their excellent form since 2015)
As demand was so high back in July, the service reached its initial capacity within a few days. The good news is though that earlier this week, they once again agreed to offer 25 new spaces to SBC members  on a first-come, first-served basis.
Whilst several of these 25 spaces have already been taken by those who added themselves to the waiting list for the service – a number do still remain.
Given the form shown by The Scotsman, its unlikely these extra spaces will be available too long!
Those of you keen to sign-up are invited to sign-up ASAP, whilst you can.
Further details, including results can be found at the Scottish Football Income Booster page.
18th September 2017
Special 3 1/2 Months Intro Deal To Follow New Football System

SBC have teamed up with the Football Prophet Betting System to offer you exclusive access to their tips with a special introductory pricing offer for the 2017/18 season.
Providing tips across all 4 English Leagues, over the past 2 seasons, The Football Prophet System has made a profit of 31.85 points (at a ROI of 6.6%) and all based on achievable prices from Pinnacle Sports only.
And although we have been proofing The Football Prophet System privately since then and have witnessed its profits first-hand, we recognise that is is a *new* system to many of you.
Hence this extra special 3 1/2 months intro deal (not to be repeated) for you all to access the system's tips and check it out for yourself.
By signing-up today for just £30, you can receive all of their tips until January 2018, with the guarantee that a 5% ROI is made during this period (and if not hitting the 5% target – you can choose between getting your money back OR a free extension until they do).
The first tips from the system are due after 8 weeks of the season elapses – which is this coming weekend (the 22nd September).
Read more about The Football Prophet and sign-up today.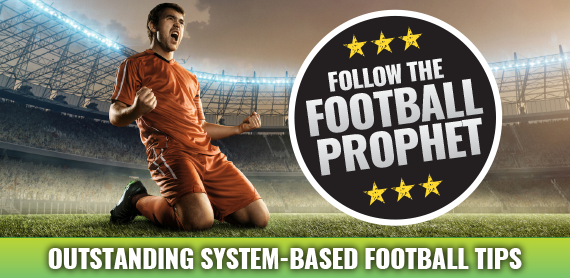 30th August 2017
Download Now: SBC's First Ever 'Premium' Tipster Profit Report

SBC's first ever Premium Tipster Profit Report has just been published and is available for immediate download for all SBC members. 
You can either download the file directly via this link (no login required) or through the Premium Profit Report page.
This new report is your prime location for finding out the very latest results, commentary and performance on all the Premium Tipster services that we operate at the Secret Betting Club.
For each service, you can view their key performance stats (bet number, profit, ROI & ROC) for the past 6 and 12 months as well as all-time. Plus their profits in the context of 3 different betting bank sizes both in terms of annualised and 12-month profits after fees.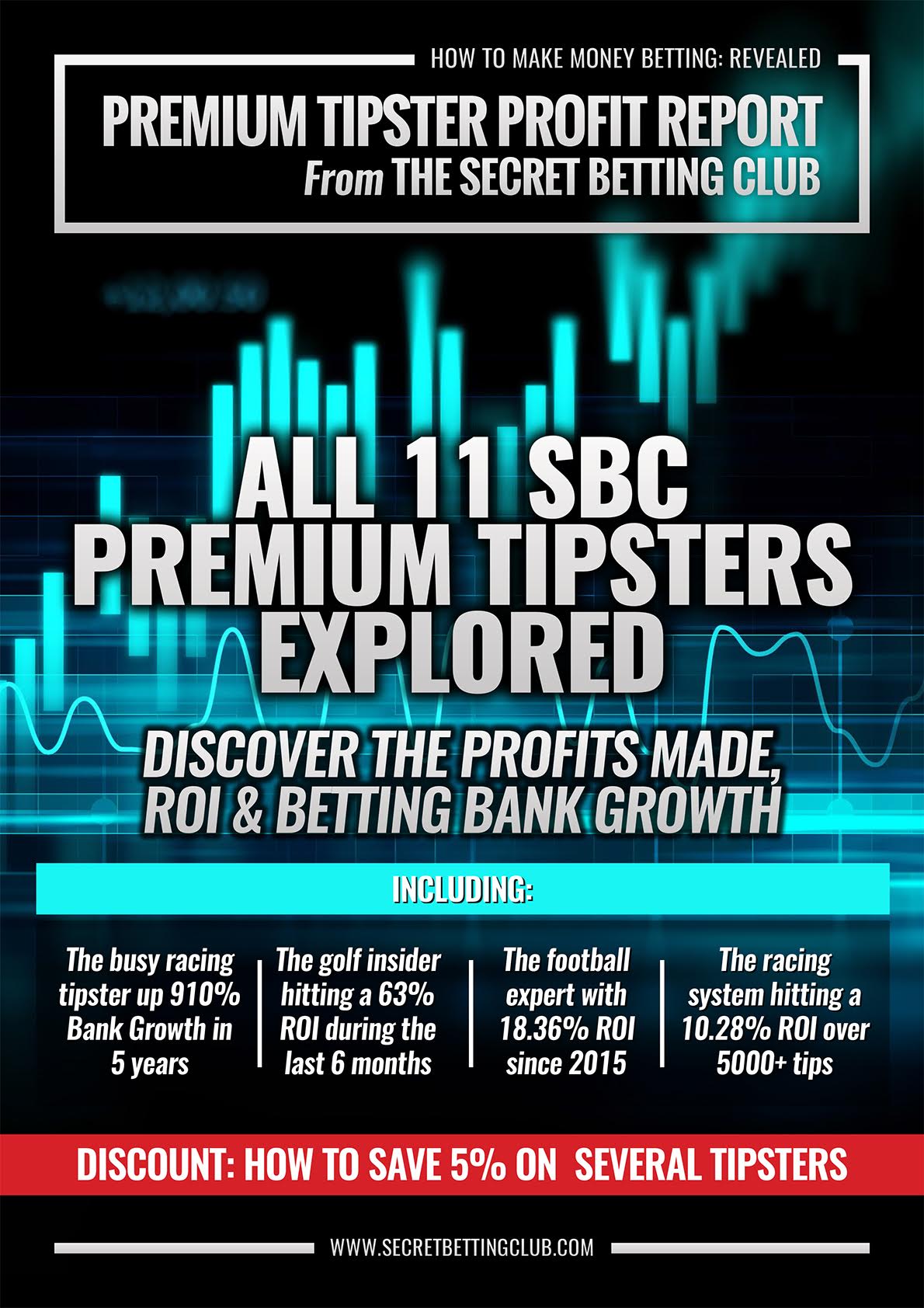 Save 5% On Several Premium Tipsters
To celebrate the release of this report, you can now save 5% on the usual membership costs for several Premium Tipsters.
Simply enter the code SEPTEMBER in the Coupon Code section of the subscription form for each service. Upon entering that code, 5% will automatically be deducted at checkout.
This 5% discount will only be available until Midnight on Sunday the 10th of September and applies only to the following tipsters:
Morning, Evening & Festival Value Services
MVS Lite
Pilelist Racing
AH Edge
Jason James Quantum Racing
Chasemaster
22nd August 2017
All The Football Messiah Membership Spaces Snapped Up!

Due to exceptional demand, all of the initial membership spaces for the Football Messiah were snapped up within the first 24 hours of the service going live.
This is because to protect the odds availability for those following the tips, we are working to a small, limited number of members only.
We will be taking onboard members as the season goes on, based on subscriber numbers and how the odds on advised tips hold up.
Those of you keen to be notified of as and when new spaces become available are now invited to join the Football Messiah waiting list.
AH Edge Spaces & Good Start
The good news is that SBC's other football tipping service, AH Edge currently does have membership spaces available and has started the season extremely well.
Returning for the 2017/18 season on the 1st August 2017 – the first 3 weeks of the season have been fantastic with 9.1 points profit from the first 33 bets advised. This equates to a ROI of 27.5% and a ROC or Betting Bank Growth of 22.70%

Visit the AH Edge page to discover more and secure your membership space.
21st August 2017
Finally Available: The Football Messiah / Limited Spaces On Offer

As promised – I have the first details on the fantastic football tipster service being made exclusively available to SBC members: The Football Messiah.
For the longest time, the Football Messiah has been one of the best-kept secrets in the football betting world, preferring to keep a low-profile and concentrate on what he does best – tipping great value football bets.
Now for the first time ever, he has agreed to team up with SBC to provide this exclusive service providing tips across all 4 English leagues. What's more – if signing-up before Monday the 28th of August, you can also save up to £50 on the cost of subscription.
To protect the odds for those of you that do join, only a limited number spaces are being made available initially, which will be filled on a first come, first served basis. This includes just 20 monthly membership options, which come complete with a 45 day money back guarantee.
Check Out The Football Messiah NOW!

7th August 2017
AH Edge Monthly Membership Option Now Available

The very first bets of the AH Edge season were advised earlier this week and due to popular demand, we have now also introduced a monthly membership option. Ideal for those of you keen to join for a shorter period to gauge exactly what the service is all about!
Priced at just £45 per month and with the ability to cancel at anytime, it offers a flexible option for any of you keen to renew your membership for the 2017/18 season.
Monthly Membership: £45 per month
Click here to subscribe
Don't forget either that this season you can follow AH Edge using the Smartbet bot, first reviewed by us in our Betting Tech issue – SBC 101. Smartbet allows you to automate the placement of each AH Edge bet (doing all the hard work for you) and all you need to make it work is access to a Pinnacle Sports account.
20th July 2017
AH Edge Now Open: 5% Discount On New Season & SBC Review

The doors are now open again for those of you keen to join the fantastic AH Edge football tipping service for the 2017/18 season.
Supplying Asian Handicap football tips across all the major European competitions, AH Edge enjoyed a very strong 2016/17 season and is all set to repeat the feat this coming season.
The service is led by Australian-based football betting guru, Jon Roberts and is exclusively available to you as a Secret Betting Club member.
Best of all, those of you securing your AH Edge membership space now can save 5% on the cost of a subscription, simply by using the code AHEDGE5
Half Season Membership: £175
Membership runs from the 1st August until the 31st December 2017
Click here to subscribe
Full Season Membership: £299
Membership runs from the 1st August until the 31st May 2018
Click here to subscribe
Read The SBC Analysis of AH Edge
To highlight the profits made by the AH Edge service, you can also read a special SBC review – available to download now in PDF format.
»  Download The AH Edge SBC Review (opens up a PDF file)
The review tackles the important questions on the service including the results since 2014, betting bank growth, performance broken down by country and its overall profitability.
Secure Your 5% Discount Now
The 5% discount on 2017/18 memberships is only available until this Friday the 28th July.
16th July 2017
SBC Golf Insider Review / Get Ready For The Open!

The 2017 Open Championship starts this Thursday at Royal Birkdale and for those of you interested in betting on Golf, I have some important updates to share on the Golf Insider service.
Firstly, to highlight the profits made by this long-recommended service, I have put together a special SBC review of the Golf Insider and what it offers.
Inside this review, you can read analysis on the results, staking, betting bank suggestions, its suitability for exchange betting and a lot more besides!
Outstanding 2017 Form: 65% and 41% ROI!
Since my last email about the Golf Insider in the middle of May, the service has really racked up the profits and is continuing to enjoy a phenomenal 2017!
There have been big winners on the likes of the likes of Alex Noren at 20/1 and Tommy Fleetwood at 22/1 plus substantial place returns from Ryan Fox at 150/1, Shane Lowry at 50/1, Danny Lee at 66/1, Rickie Fowler at 30/1, David Horsey at 50/1 and Charley Hoffman at 40/1
The 3-ball tips have also been in outstanding form with the last 7 tips all winning at average odds of just under 6/4.
The ROI figures for 2017 stand at 65.88% ROI for the Outright Tips and 41.64% for the 3-ball tips!
You can read all about this form PLUS the profits made dating back to 2014 since the service began life in the Golf Insider Review.
60-Day Trial & 10% Discount
Best of all as an SBC member, you can now take advantage of a special 60-day trial of the Golf Insider service and 10% discount offer.
Simply visit http://www.golfinsider.co.uk/sbc-offer for more information and links to sign-up for the 60-day trial at 10% discounted prices.
But be quick as the first Golf Insider tips for the Open will be coming out this Tuesday!
10th July 2017
25 Spaces Now Available For In-Demand Football Tipster

As promised – I have the first details on the fantastic new football tipster now exclusively available to you as a Secret Betting Club member: The Scottish Football Income Booster
To protect the odds for those of you that do join, only 25 spaces are being made available initially, which will be filled on a first come, first served basis.
With the first bets for the 2017/18 season coming this Friday the 14th July, make sure you join ASAP to avoid disappointment!
Best of all, those of you in the first 25 to join will also benefit from a 60 day Money Back Guarantee with the service.
Visit The Scottish Football Income Booster SBC Page
Read An Interview With The Scotsman
The Scottish Football Income Booster service features regular betting advice from 'The Scotsman': A bonafide expert on the 4 main Scottish Football Leagues: The SPL, Championship, League 1 and League 2.
Proofing his tips to us since August 2015, he has made a 16.67% ROI from 425 tips over the course of the past 2 seasons in his favoured 1X2 and Over/Under markets.
To understand more about The Scotsman and exactly how the Scottish Football Income Booster service can benefit you – then make sure you read this recent interview with him.
»  Download The Scotsman Interview (opens up a PDF file)
Through the interview, he discusses his background in betting, his tipping strategy, the markets he focuses on, the bookmakers he uses and why exactly he has been so successful.
Scottish Football Income Booster
22nd June 2017
More Profits For MVS Lite (& My £428 Winning Trixie Today)

It's been an exceptional past few weeks for the SBC Premium Tipster Service: MVS Lite and given some of the outstanding and achievable profits being made (including a big winning bet earlier today), I simply have to highlight them for you here.
I follow it personally myself (read on to see the betslip from my £428 winning bet today) and its continued to rack up the profits for me using some very simple strategies. Allow me to explain more..
MVS Lite Recent Highlights
First off some recent figures as June has been a fantastic month for MVS Lite with the following profits generated so far this month:
JUNE 2017
Backing all tips as single bets: 67 bets, 29.77 points profit @ 44.43% ROI
Backing all tips as double bets: 63 bets, 75.24 points profit @ 119.42% ROI
This follows on from the fantastic form being show throughout 2017 for both methods, which stands as follows:
ALL OF 2017
Backing all tips as single bets: 348 bets, 59.31 points profit @ 17.04% ROI
Backing all tips as double bets: 243 bets, 118.41 points profit @ 48.73% ROI
All of which is no flash in the pan either as this service has a tremendous record dating all the way back to 2011, which can be viewed on the MVS Lite website.
So, What Exactly Is MVS Lite & What Does It Offer?
MVS Lite is a unique tipster that supplies tips priced between 7/4 and 3/1 during two set time windows each day Monday to Saturday.
Morning racing tips are sent on at 10.30am and Evening racing tips 45 minutes before the start of Evening racing each day.
As it focuses on bets between just 7/4 and 3/1, its easy to follow and get on as most bookmakers are generally happy to lay you bets at these odds (and also easy to get on via the exchanges)
Double Up Your Profits (My Preferred Method)
Another way of following (and my preferred method as its the most lucrative long-term) comes by placing win doubles on days where 2 or more selections are put forward.
Whether it be 2, 3 or 4 tips put forward – simply put them all together as a series of double bets, something most bookies are happy to lay.
The stats have borne out this approach as to date, there would have been 3274 double bets, generating a phenomenal 1008 points profit at a ROI of 30.78%. To the advocated 'doubles' betting bank that equates to 268.70% Return on Capital.

Trebles & Trixies For Even Bigger Returns
On days like today where there were 3 tips put forward (as there were in the 10.30am MVS Lite message this morning), I also put them in a trixie.
A trixie is a bet every bookmaker offers when you have 3 selections – it places 3 lots of doubles and 1 treble to cover all permutations.
Of course you need all 3 bets to win for the treble to come in, but when it does, the payout is fantastic.
I placed a £6 trixie on todays selections: Graceful Lady, Mr Wagyu and Kilowatt, which as you can see from the betslip below returned me £428.75.
My only regret was not having Best Odds Guaranteed prices on my bookie account as Mr Wagyu actually started at 7/1 SP, much higher than the 10/3 I obtained. Had this bet been settled at 7/1, my return would have been £723.75!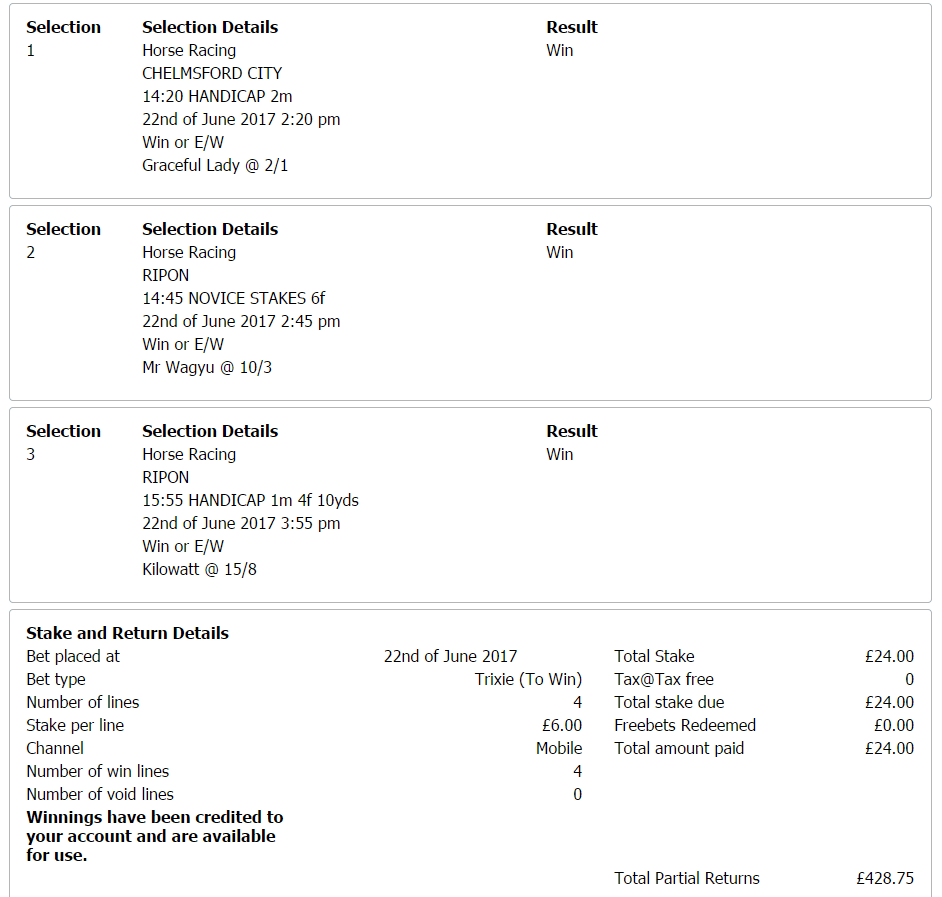 Although there are a number of days where 0 or just 1 of the tips win, there will be enough days when at least 2 come in to ensure at least one win double is successful. If patient enough, there will also be days like today when all 3 come good.
Sure its a strategy you need to be patient with, but if willing to play the long-game, the benefits are clear.
Discover More On MVS Lite
The MVS Lite service is exclusively only available to Secret Betting Club members and comes with a 30 point profit guarantee for those of you joining for a 12 month period.
I highly recommend it as one I have followed for sometime to good success.
2nd June 2017
Flash Sale: 10% Premium Discounts All Weekend

From now until midnight on Sunday, you can save 10% on the cost of several SBC Premium Services as part of a special sale.
To save 10% simply enter 10PERCENT in the coupon code where prompted when subscribing to any of the following tipsters:
Do be quick though as these 10% discounts will only be available until Midnight on Sunday the 4th June.
More details can be found via the Premium Section.
30th May 2017
28/1 and 20/1 winner for the Golf Insider

Last week I wrote about the fantastic form being shown lately by the Golf Insider service (who are offering all SBC members a 60 day trial) and true to form, they picked up a string of profitable bets over the weekend.
This included both the winner of the BMW PGA Championship, Alex Noren at 20/1 and winner of the Dean & Deluca Invitational, Kevin Kisner at 28/1.
Added to that they also had each way placed efforts at 50/1 and 66/1 to make it a weekend to remember.
All told, the Golf Insider made a profit of £3,038 from 10 bets and £660 staked in the past 7 days. That's a ROI of 460%!
That has brought their total profits to £15,337.13 from 1260 tips at a ROI of 17.28%.
And it is this long-term form, which when coupled with the exclusive 60-day trial is making their service so appealing. With the next tips for this weeks 2 tournaments due soon, its a perfect time to sign-up to see what all the fuss is about (safe in the knowledge too that you have 60 days to decide whether the service is for you or not!)
You can get signed-up right away via http://www.golfinsider.co.uk/sbcoffer or read on for more..
24th May 2017
60 Day Risk-Free Trial Of This Golf Insider…

This Thursday sees the start of one of the biggest Golf tournaments of the year – the 2017 BMW PGA Championship, making it a great time to sign-up for the exclusive 60-day risk free trial of the Golf Insider service available to SBC members.
With a total profit of 12475.01 points and ROI of 14.21% from 1243 bets since 2014 (and all at very achievable odds) its a service with a proven history of golf betting profits.
With a string of winners already in the bank for 2017 and a 10% discount available after the 60 day trial ends, its an offer not to be missed.
3 Years Of Proven Results Betting on Golf
The BMW PGA Championship is the 2nd Major golf tournament of the year and the Golf Insider is hoping to replicate his fantastic performance in the 1st Major, the US Masters, which took place last month.
The Golf Insider tipped up not 1 but 2 big priced winners with the eventual champion, Sergio Garcia backed at 40/1 and a winning tip on Charlie Hoffman to be the 1st round Leader at 90/1.
There have been several other highlights so far in 2017 with Adam Hadwin at 80/1, Kevin Chappell at 28/1 and Justin Thomas at 22/1 all winning alongside big priced placed tips on Tommy Fleetwood at 200/1, Scott Jamieson at 100/1 and Pablo Larrazabal at 100/1.
All of which has left his complete record (his mix of outright bets and 3-ball tips) standing at 12475.01 points profit from 1243 bets at 14.21% ROI.

With only a handful of outright and 3-ball tips advised for each tournament, its an easy service to follow and crucially – can be followed on the exchanges or with bookies happy to lay a decent bet!
If signing-up today, your exclusive 60-day SBC trial period will include not one, but two Majors: The US Open starting on June 15th and the Open Championship on July 20th.
Risk-Free Trial & 10% Discount
As an SBC member, you can now take advantage of a special 60-day trial of the Golf Insider service.
This enables you to sign-up immediately, and if for any reason you are not happy with the Golf Insider service, you can request a full refund within your first 60 days.
Effectively you can sign-up today, try the service out for size and if it's not for you, request your money back and walk away. Even if you decide to do this on Day 59!
Should you wish to continue as a member after the 60-day trial ends, then you can also benefit from an ongoing 10% discount on the cost. Again – an exclusive offer to you as an SBC member.
Simply visit http://www.golfinsider.co.uk/sbcoffer for more information and links to sign-up for the 60-day trial at 10% discounted prices.
Should you have any questions, you can get hold of Matthew, who helps run the Golf Insider service, via email and over the phone where he will be only too happy to discuss this offer with you.
12th May 2017
Start The Value Machine – Expert Tips On Demand

I am pleased to unveil the first details on an exclusive SBC member deal for access to the fantastic racing tipster: The Value Machine.
Based on the highly successful Morning & Evening Value Services (which have made 3879 points profit at 10.94% ROI and 1293% ROC since 2011) The Value Machine enables you to pick out the tips that suit you when you want.
With the Value Machine you can choose which day and time you want to bet
With the Value Machine you can choose the type of bets that suit you and with which bookmakers you can bet with.
And best of all its available now at specially discounted SBC member prices. Visit The Value Machine to find out more.

11th April 2017
Value Services Fine Form Continues Into 2017

The superb form as shown by the 3 Value Services has shown no signs of slowing up in 2017 with some excellent extra profits generated.
The Morning Value Service has lead the profit charge, supplying 971 tips up to the 10th April 2017 and making 138 points profit at 14.20% ROI.

This follows on from an outstanding 2016 whereby MVS made 588.96 points profit at 14.24% ROI! Equating to ROC or betting bank growth of 196%.
Also faring well in 2017 is the more selective Festival Value Service, which as you might guess, only supplies advice during the big festival meetings. Ideal for those of you keen to bet more on the best races!
Alongside their excellent record since 2011, up to the 10th April 2017, Festival Value followers have made 44.5 points profit at 60.96% ROI from just 73 tips this year.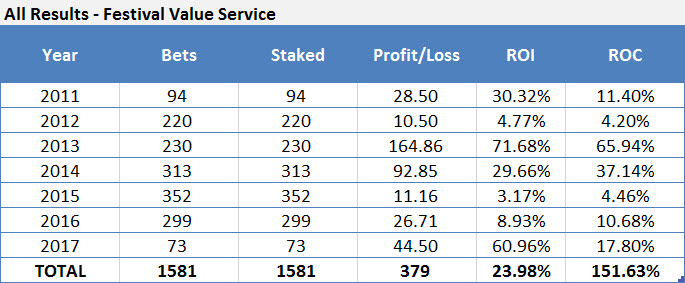 Read more on all 3 Value Services and how you can save with the Secret Betting Club today.
6th April 2017

New Pilelist Racing Premium Service Launches!
Today sees the launch of the superb new, Pilelist Racing Premium Service – exclusively designed for SBC members!
For the past 6 months, Harry who runs the Pilelist Racing service has have been supplying all of his tips for free to SBC members via the forum and email.
During this free trial period, he has made (to very obtainable and beatable odds) a 22.7 point profit at 8.6% ROI from 325 tips.
As well as making a strong profit from the very fair odds that Pilelist Racing settle to, for those of you interested in betting either at Betfair SP or with Best Odds Guarantee bookmakers, much greater profits can be made.
Firstly, Betfair SP and if you backed all Pilelist Racing's tips to win on the exchanges and deduct 5% commission off each winner, you would have made a 15.3% ROI from 1092 tips.
We analysed every single Pilelist list tip advised and found that if applying Best Odds Guaranteed (BOG), you would have made an extra 48.6 points profit and 5.3% ROI from the very same bets.
Whichever way you look at it, whether you follow Pilelist's advice to be backed each way or to win outright and at Betfair SP or bookmakers (with or without best odds guarantee) it offers a significant edge.
Best of all, the odds are extremely achievable as our study revealed back in November 2016, which estimated you could boost your ROI by 0.6% if placing your bets 60 minutes after advised.
Claim Your Priority Membership Space
The current Pilelist Racing free trial will be coming to an end on Monday the 10th April, yet fear not because you can claim your Priority Membership ASAP and secure your space in the forthcoming Premium Service.
Membership of the Pilelist Racing Premium Service will be the only way you can access these tips.Priority Membership is now available and provides a discount of up to £30 on the cost of subscription.
The Pilelist Racing service will start on Monday 1st May but make sure you sign-up before then to secure your space at a discount.

31st March 2017

The Odds Beater Free Trial Finishes
The Odds Beater free trial, whereby all his tips have been supplied to SBC members via email finished today after a very successful period since it began on the 6th February 2017.
During this free trial, SBC members made 113.38 points profit from 557 bets and all at a ROI of 20.36%.

Following the conclusion of this trial, we are now welcoming new subscribers to the service, whereby you can save 50% on the cost of your first month's membership. Full details are online now at The Odds Beater.
9th March 2017
Special Jason James SBC Report
Ahead of the Cheltenham Festival, we have put together a special report on the profitable SBC horse racing tipster- Jason James.
This report tackles important questions such as Jason's profits at Betfair SP, backing his tips on the exchanges, his staking plan, odds availability, in-running lays and much more besides.
You can download this report in PDF form here
Sign-Up Before 10pm Monday And Save
After a fine run of form in recent months, the cost to join Jason's tipping service will be increasing after 10pm this Monday the 13th of March.
This price increase is to cater for a likely cap of members in the near future as once we reach a certain number of subscribers we will be introducing a waiting list system for membership.
You can subscribe at the current cheaper rates by visiting the Jason James Quantum Racing page. At the stroke of 10pm this Monday we will be increasing the prices on the website so make sure you sign-up before then!
—————–
27th February 2017
AH Edge Strong Form Continues: 350 Bets / 8.49% ROI / 49.50% ROC

The AH Edge service has continued its excellent form, and now having reached the 350 bet marker for the current 2016/17 season, sits on a 8.49% ROI and 49.50% ROC.
The seasonal figures since August 2016 now stand as follows:
350 bets
29.7 points profit
8.49% ROI
49.50% ROC
These profits have been generated from the easy to follow Asian Handicap football tips supplied by this special service, where SBC have teamed up with football expert, Jon Roberts.
With easy to obtain odds and no bookmaker restrictions and closures as we are betting on highly liquid football markets, its a fantastic option for shrewd punters everywhere.
Those of you interested in AH Edge, can also now subscribe until the end of May 2017 for just £89.
Next season to protect the quality of service, the cost will likely be increasing so make sure you sign-up now to see what all the fuss is about!
—————–
14th February 2017
Save 10% on ALL Value Services For The Next 8 Days
Those of you inspired by the real-life experience of SBC member, Robbie, who made £80,000 profit with the Value Services, can now save an extra 10% on the cost of joining them.
This offer will run until the 22nd February and the 10% discount is on top of the existing discounts already available for this tipster service.
Click here to read more on the Value Services and the 10% discount links.
—————–
10th February 2017
Robbie's Value Service Case Study – £80,000 Profit!

The very first Premium Case Study is now available to read, featuring SBC member, Robbie and his experience with the Value Services.
In his own words, Robbie outlines how over several years as a member, he has made £80,000 profit following the Value Services advice.
—————–
6th February 2017
33/1 Winner For Racing Expert, Jason James

It was a Saturday to remember for followers of Jason James and his Quantum Racing service thanks to the 33/1 winner, Ballythomas at Musselburgh.
Put up by Jason at 9am on Saturday morning when 33/1 (a price that remained available with a number of bookmakers for just under 30 minutes), it was supported later that day into 10/1 and duly obliged for followers.
A 25p rule 4 in the race ensured a slightly lower return of +29.70 points profit from the 2 points staked in total, yet ensured an excellent afternoon, which was topped off with another winner later on at Lingfield, Lancelot Du Lac at 4/1.
February has got off to a flyer for Jason and looks set to be yet another profitable month for followers. Sign-up now and you can also enjoy a minimum points profit guarantee.
—————–
3rd February 2017
Jason Mills: Massive Midweek In The Premier League!

English Premier League expert, Jason Mills had a fantastic set of winners in the most recent midweek top-flight fixtures, with the undoubted highlight his 14/1 winner on Watford to beat Arsenal.
After seeing a number of late goals deprive him of a few other big price winners recently most notably in games featuring Arsenal, it was a rich reward for those patiently following. Recently Jason tipped up Arsenal vs Burnley to be a draw at 13/2 (scuppered by a 98th min penalty) and Bournemouth to beat Arsenal at 4/1 (who came back from 3-0 down!).
Jason's latest results for the 2016/17 season show a 18.95 point profit at 4.12% ROI.
Find out more at the Jason Mills EPL Expert page
—————–